Blast the glitter cannons and dance in the streets everybody, because romantic comedies are BACK!
We all have our favorites, but from Pride and Prejudice to I Feel Pretty, rom coms are one of the most beloved genres by women across the world. And whether they come in book or movie form, they're also one of the most highly criticized.
Is this criticism justified? How can we make a positive contribution to the genre? What even IS a romantic comedy, and who are the current movers and shakers?
Pull on your fluffy slippers and grab your popcorn – we're going to Rom Com University.
What Is a Romantic Comedy?
We could debate this all day folks, but for the purposes of today, I'll keep it short and sweet – a romantic comedy has a romantic relationship at its core, and it's told in a humorous manner.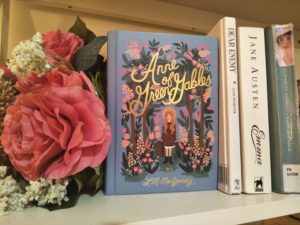 What is a rom com? Jane Austen's Emma qualifies, though Anne of Green Gables still has a plot even without darling Gilbert Blythe.
That said, storytelling is generally more of a spectrum than neat boxes.
Recent additions to the genre such as I Feel Pretty and Isn't It Romantic focus more heavily on the heroine's journey, but I still count them. If you removed the romance from either of those stories, there would be no plot left. In Christian fiction, I'd say Bethany Turner's
The Secret Life of Sarah Hollenbeck
and
Wooing Cadie McCaffrey
are comparable. However, I wouldn't count a movie like Bridesmaids that focuses on the female friendship as the core story and just has a romantic subplot.
The humorous part can be tricky too—how funny is funny enough?
I'll be honest and tell you that some readers call my novel Love and Other Mistakes a 'romantic comedy', while others would say it's a romance with lots of family drama. I consider it borderline so I call it a 'sassy romance'.
Regardless, I won't be nitpicky. Much of the advice today will apply to your funny-women's-fiction-with-a-romantic-subplot or your sweet-lighthearted-romance.
What's Happening Now in Romancelandia?
In the world of romance, otherwise known as Romancelandia, romantic comedies are making a strong comeback.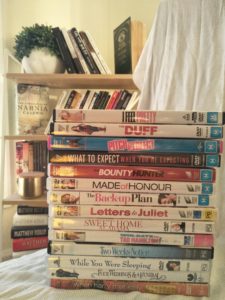 Trends in romantic comedies have changed over the years, but the key ingredients stay the same.
Long story short, for movies at least most people consider the 90s to have been the Rom Com Golden Age (all those Meg movies), the 00s to have been the Fall of Rome, and the 10s to have been a barren wasteland. Or more accurately, this decade has seen few true rom coms, but romantic comedy elements have found their way into all sorts of other genres (including a lot of television).
But now Netflix is once again changing everything…
Over in the book universe,
Bridget Jones
introduced us to chick lit in the late 90s, which was followed by a boom (
Confessions of a Shopaholic
, anyone?) and bust by the mid to late 00s. Now general market names like Christina Lauren and Sally Thorne are bringing rom com books back in a big way. (Though to be fair, Sophie Kinsella never stopped being awesome.)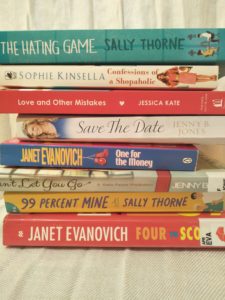 Writing romantic comedy in book form means an author has less scope for physical comedy, but plenty of opportunity in author voice and description.
In the Christian/sweet fiction market today,
Kara Isaac
, Bethany Turner, Kristin Billerbeck, Melissa Tagg, and Jenny B Jones are all major players in the contemporary category. Historicals have their share of humorous romance too, with Karen Witemeyer, Mary Connealy, Deanne Gist and Jen Turano all contributing. I'm sure there's more that I've missed (add them in the comments!) and you could probably question the strict definition of whether these are rom coms, but like I said…it's a spectrum.
Shifts in the Genre
Now that we've had a chance to recover from some of the less-awesome rom coms of the 00s, Netflix has recognized what we knew all along—there's millions of people out there whose Friday nights just aren't the same without some swooning and laughter. But this is a new generation of romantic comedy, and it's worth noting the differences between today's rom coms and those of the 90s and even 00s.
Questioning the premise.
Recent rom coms such as I Feel Pretty, Isn't It Romantic and even the TV series Crazy Ex-Girlfriend (which its writers call a 'deconstruction of the romantic comedy) reject the old rom com premise that a man's love equals a happy ending. Sorry Tom Cruise and Renee Zellweger, but the perfect partner doesn't complete anyone. These stories focus more on the heroine's internal journey to self-love, with a strong serving of romance on the side. As Christian authors we believe this can go a step further—to a heroine secure in her value due to God's love. Don't be afraid to examine conventions in the genre and flip them on their head.
Smart is sexy.
The modern women in these romantic comedies are far less concerned with the designer brand of their high heels and far more focused on their professional careers or small businesses. These are no damsels in distress—these women kick corporate butt, and the men who pursue them must match their intelligence and wit.
Flip clichés for comedic effect.
Man Up, Isn't It Romantic and Crazy Rich Asians all find different ways to poke fun at the 'run to the airport' cliché—even just by showing how hard it really is to make a grand romantic speech on a crowded airplane. See if there's any cliched moments that you can twist—your readers will love it!
Write Your Rom Com
Whatever decade (or century) they were written in, the great romantic comedies have the same storytelling principles that serve all genres:
Multi-dimensional characters.
Sweet Home Alabama is one of my favorite rom coms because there's so many layers to Reese Witherspoon's dilemma – not just the two men in her life and her flourishing fashion designer career, but complicated relationships with her parents, her friends, her future mother-in-law, her own regrets and her nostalgia. Plus, the secondary characters are more well-rounded the your average 'best friend' cardboard cut-out. Everyone has their own flawed lives, not just the main characters.
A strong voice.
Sally Thorne's wildly exuberant descriptions (like an explosion of rainbows and sherbet for your brain), Janet Evanovich's deadpan way of describing ludicrous situations and characters, Jenny B Jones' southern sass—all essential ingredients to the success of their respective stories. Voice isn't something you can force, but it is something you can cultivate. What tickles your funny bone in rom com books? Take note and make an effort to put your own spin on it.
Witty dialogue.
Is there a rom com in existence that doesn't have witty dialogue? Jane Austen set the bar high and we've been striving to meet it ever since. Good banter takes a while to get right—the first drafts tend to come off abrasive—but seek out feedback and refine, refine, refine. And watch everything Aaron Sorkin ever made.
Comedic situations.
Get creative and see what you can make happen. Janet Evanovich has managed to destroy Stephanie Plum's car in all 25 novels of the series so far—she even smushed it with a garbage truck once—and it's a running joke of the series. The 'proposal story' one-upmanship scene between Sandra Bullock and Ryan Reynolds in The Proposal is comedy gold, as is Sandra Bullock's interesting dance moves with Betty White. I Feel Pretty plays with cringe humor, while Confessions of a Shopaholic lets Becky Bloomwood tie herself in knots as she tries to cover up her lies.
Funny description.
In rom com books there's extra room for comedy in your description. You could compare your heroine's bed hair to a rat's nest…or an electrocuted octopus. Contrast a character's expectations (glamorous night out) with reality (strapless bra cutting off blood supply). Go crazy.
Strong romantic tension.
Stronger than in your sweet romances, these characters feel an irresistible pull toward one another—but they'll fight it with everything they've got! This is why some of my favorite rom coms have characters with history (The Proposal, Sweet Home Alabama, Two Weeks Notice) because the bond of shared history really helps ramp up that magnetism.
An evenly matched hero and heroine.
Power dynamics are important. If one character has an advantage over another (in The Proposal, Sandra Bullock is Ryan Reynold's boss) then circumstances have to even the scales (Sandy is a fish out of water in Ryan's Alaskan hometown). Especially in stories with a love/hate trope, the characters will spend the story either fighting one another or fighting a third force side-by-side, so they need to be evenly matched with complementary strengths and weaknesses.
Know your secret spice.
There's a magic ingredient common to all your favorite books, movies and TV shows, regardless of genre. James L Rubart calls it the theme of your life. If you can't detect it, go back to that list of favorites and ask 'what was my favorite moment in each of these stories?' Knowing this helps you generate story ideas you'll stay addicted to.
Go deep and make us feel something.
While they're not romantic comedies, let's borrow from Pixar's kid-friendly comedies for a moment. While they're known for making parents laugh, those movies deliver an emotional kick every time—who doesn't tear up in Finding Nemo? The pain of the characters' emotional journeys provide a strong contrast to the humor, like a diamond sparkling on black velvet. It makes us appreciate the laughter that much more!
Whatever brand of romantic comedy you love best, the guiding principles of storytelling remain the same. Study those who tickle your funny bone the most, layer in strong character motivations and whack in some seemingly insurmountable obstacles. And have fun with it! 😊
About Jessica Kate
Australian author Jessica Kate is obsessed with sassy romances.
She packs her novels with love, hate, and everything in between—and then nerds out over her favorite books, movies and TV in the StoryNerds podcast. When she's not writing or discussing fiction, she's hunting the world for the greatest pasta in existence.
Her debut novel Love and Other Mistakes releases July 2019, while A Girl's Guide to the Outback hits shelves in January 2020.
Receive her sassy short The Kiss Dare FREE when you sign up for her newsletter at
jessicakatewriting.com
, and check out the StoryNerds podcast on Spotify and Apple Podcasts and at
www.storynerds.podbean.com
.
About Love and Other Mistakes
Jessica Kate's hilarious, romantic debut novel proves that some mistakes—including love—are begging to be made again and again.
Natalie Groves once had big dreams. But soon after her fiancé, Jeremy Walters, inexplicably broke off their engagement and left town, her father was diagnosed with cancer. Now tasked with keeping her family afloat, Natalie's grand plans have evaporated . . . and God feels very far away.
Fast-forward seven years, and Jeremy is back in Charlottesville with an infant son and years of regrets. When his niece, Lili, lands on his doorstep in need of a place to stay, Jeremy needs help—and fast.
An internship opening finally presents Natalie a chance at her dream job, but she needs a second income to work around it—and the only offer available is Jeremy's. They could be the solutions to one another's problems, provided they don't kill each other in the process. When they join forces, sparks fly. But they both know there's a thin line between love and hate . . . and that love will turn out to be the best decision—or the biggest mistake—of all.
Click here to find Love and Other Mistakes at your favourite online retailer.
A Girl's Guide to the Outback
Romance author Jessica Kate explores the hilariously thin line between love and hate in her heartwarming new novel. Kimberly Foster needs help from the last man in the world who would give it.
She and Samuel Payton fought so much during their three-year stint as colleagues that they now reside in different halves of the globe. She's still the business director of the Virginia-based youth ministry that Sam founded, while he's back at his family's farm in rural Australia.
But Kimberly can't find a suitable replacement for Sam, and the ministry is in trouble. She needs him back. What she doesn't know is that the Payton farm's finances are scarier than statistics on Australian spider bites.
She and Sam strike a deal: if she can use her business savvy to save the farm, he'll return to Virginia and recruit and train his replacement.
Soon Kimberly's on the edge of the Outback, working more closely with Sam than ever before. Can she protect his family's legacy, the ministry, and her heart?
Click here to find A Girl's Guide to the Outback at your favourite online store.