Plans are well underway for the 2020 Omega Writers Conference, to be held from 23 to 25 October at Peppers Kingscliff, New South Wales (about twenty minutes from Gold Coast Airport and the Queensland border). Our main organising committee is Raewyn Elsegood, Narelle Atkins, and Andrea Grigg, but there is a team of behind-the-scenes helpers.
Andrea Grigg and I visited Peppers Kingscliff for lunch after the 2019 conference, and I didn't want to leave. Here's lunch: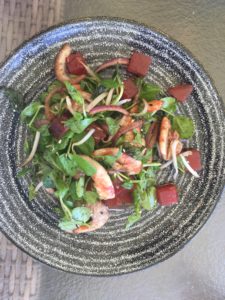 Yum!
The resort is located right on the beach, but there is also a beautiful swimming pool for guests:
Our conference will be in the main conference room, which splits into three breakout rooms:
(That's set up for a banquet—which is what we'll be having on Saturday night, for the 2020 CALEB Award Dinner!)
We also have the Boardroom, for Hub appointments with editors and publishers (yes, Australian Christian publishers will be present):
Attendees can choose to stay onsite in either the Kingscliff or Mantra resorts (the Mantra is right across the road). The rooms are beautiful, and even include laundry facilities:
There are other hotels nearby, as well as a camping ground for those who prefer.
You're probably wondering how much this is going to cost.
Well, if you get a group together and share, it will cost the same as previous years. A standard hotel room shared by 2 people (including twin beds) and breakfast for 2 people is $185 per night. If you split the cost with a roomie, 2 nights accommodation including breakfast will cost $185 per person.
Or bring your family—there are plenty of local activities to keep them busy, from rental bicycles available from reception, to the famous Gold Coast theme parks less than an hour away by car. Or just the conference bookstore, then spend a few hours by the pool with a great book.
Peppers Kingscliff are giving us great rates for the conference: 2018 prices :) So get together with your friends and book now (there's no risk—the resort offers free cancellations up to 30 days prior). There will be a shuttle to and from Gold Coast Airport, although you could also rent a car or Uber.
You can book your accommodation now!
Use this form for Peppers:
Omega Writers Conference Booking Form - Peppers Salt
Use this form for Mantra:
Omega Writers Conference Booking Form - Mantra Salt
Omega Writers Conference Booking Form - Peppers Salt
(Please make sure you pick the correct bed configuration: King/King means two King beds, while King/Twin means one King bed in one room, and two twin beds in another room).
Book via
salt.groups @ peppers.com.au
or fax 02 6670 5111. Payment is on departure. Also,
click here to join the Facebook group
to find out what else is happening, and to find potential roommates.
In preparation for conference, Omega Writers are seeking a volunteer to help run the Omega website and get set up for conference. If you have general IT skills, WordPress administration skills and an aptitude for learning new software, and you'd like to be part of the Omega team, please contact Meredith Resce at president @ omegawriters.org.
And now, I'm delighted to introduce two of our speakers:
Susan May Warren
With books translated into eight languages, many of her novels have been ECPA and CBA bestsellers, were chosen as Top Picks by Romantic Times, and have won the RWA's Inspirational Reader's Choice contest and the American Christian Fiction Writers Book of the Year award.
Susan is also a nationally acclaimed writing coach, teaching at conferences around the nation and winner of the 2009 American Christian Fiction Writers Mentor of the Year award. She loves to help people launch their writing careers and is the founder of Novel.Academy and www.LearnHowtoWriteaNovel.com, a writing website that helps authors get published and stay published. She's also the author of the popular writing method, The Story Equation, and the co-founder of Sunrise Publishing.
Susie is our keynote speaker and will lead our fiction stream. If you write fiction—especially romance or romantic suspense—then Susie is a must-hear speaker.
Amy Matayo
Not really. Not even her kids are afraid of her.
She graduated with barely passing grades from John Brown University with a degree in Journalism. But she's proud of that degree and all the ways she hasn't put it to good use.
She laughs often, cries easily, feels deeply, and loves hard. She lives in Arkansas with her husband and four kids and is working on her next novel.
Amy writes edgy contemporary romance that crosses over from "traditional" Christian fiction, and I'm sure she'll have great tips on writing great books and building a readership as a self-published author.
2020 CALEB Award
I'll be back next month to introduce more guest speakers, and launch the 2020 CALEB Awards!
(Check the Omega Writers website for the 2020 categories.)
Also, a portion of the proceeds* from the CALEB entry fee is donated to the Omega Writers Conference Scholarship Fund. If you'd like to donate to the fund and give a Christian writer the opportunity to attend their first Omega conference,
click here to find out more
.
And if you want to know why it's important that we offer scholarships to first-time attendees, well, I'll let one of the 2019 scholarship recipients tell you.
Click here to read Adam Hickey's post
.
(* FYI "a portion" broadly translates as "as much as the Treasurer lets me" :) )
So will you be at the 2020 Omega Writers Conference?
About Iola Goulton
Iola Goulton is a New Zealand book reviewer, freelance editor, and writer. She holds a degree in marketing, has a background in human resource consulting, and works as a freelance editor specialising in Christian fiction. When she's not working, Iola is usually reading or writing her next book review. You can find Iola at her
website
, or on
Facebook
,
Pinterest
, or
Twitter
.