There is one thing I don't like and that is series. It is always nice to have a series, but if you are buying books, it cost you more and can get expensive.
I have one series of seven books. I do have many other series, (3,4 ,5). There was one series I was glad I never started buying as I know there was more than 40. That would break my bank, and also having somewhere to put them.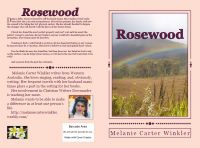 I have self-published my first book last year. I hadn't thought about doing a series (trilogy) As I was editing Rosewood, two other characters were telling me their stories had to be told.
I am writing book 2 now. I am happy it is a stand-alone book. The epilogue in Rosewood (book 1).kind of leads into it ,but it isn't needed to be read. I do have that people will want to read all three books in the series. That is mainly because i am to get sales.
Do you prefer series of single books? I do enjoy series as a reader you can get involved in the character's lives. If I don't have to buy the books (or get a special) it is great. It's when you realise the series is long is harder, especially on your wallet. You might be lucky if you local library carries a series of book you want to read. (Geelong library was great).
I don't buy many paper book at the moment as i now have a kindle. It is a lot cheaper to buy series on that.e
I have stand-alone books and series in my collection at home. I have enjoyed some of the series and didn't begrudge having to buy more than one book.
What do you prefer? and what do you write? How do you chose what buy and/or read?